Regular price
Sale price
£8.00 GBP
Unit price
per
Sale
Sold out
My "To Do" Deo Cream has been tried and tested by really busy people and is one of my most popular products. There are some good reasons for avoiding sprays but you probably know that. The" To Do" features some great natural and organic ingredients that have been carefully selected to fight odour the natural way incl. Organic Sheabutter & Coconut Oil, soothing Kaolin Clay and a blend of Tea Tree, Lemon & Peppermint essential oils.
Content: ca. 50g
If you are new to natural deodorants then read on-
Sweat is natural, good and an important bodily function. Its actually the overgrowth of bacteria that causes a 'distinctive' sweaty smell so keep your arm pit zone clean and dry before you apply the natural deo.
 Transitioning to a natural deodorant is perfectly normal and healthy! Instead of blocking pores to prevent sweating, natural deodorants allow the body to do what it is naturally supposed to do. So give your body a chance to build up good bacteria and restore its natural balance.
 

Less is more! You are applying the purest of ingredients rather than synthetics. So don't be tempted to over-apply.
 

Over time you will notice that you sweat less using a natural deodorant.
There are a few things you might want to try through your transition:
Wear breathable fibres e.g. bamboo, cotton and linen.
Drink plenty of water (you should do so anyway).
Ideally, avoid unhealthy foods & drinks if you can.
Ingredients: Organic Virgin Coconut Oil, Shea Butter, Arrowroot Root, British Kaolin, Beeswax, Sodium Bicarbonate, Natural Vitamin E, Peppermint, Lemon & Tea Tree Essential Oil.
Share
View full details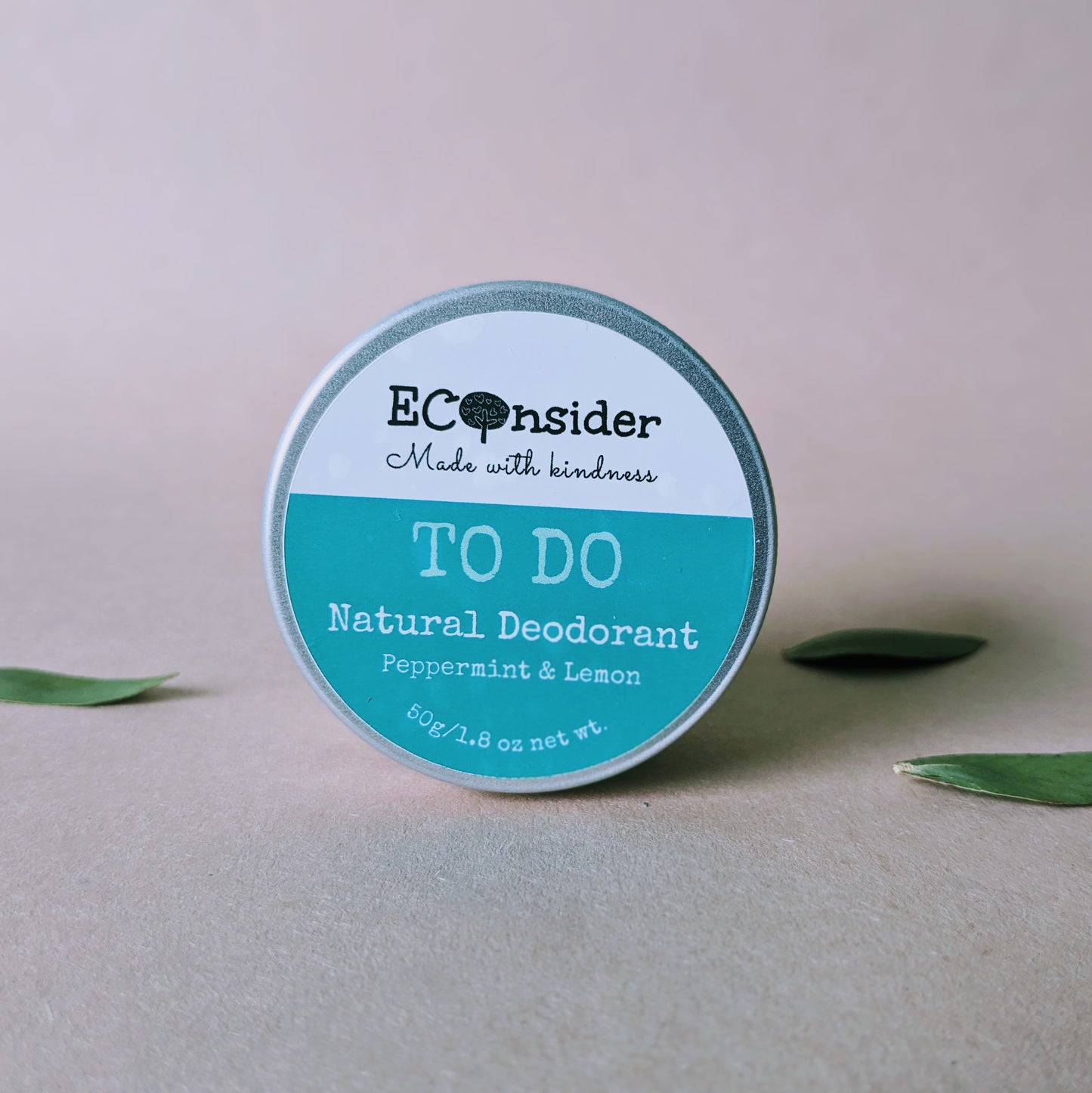 The best deodorant
I was having issues finding and deodorant that I'm not allergic to yet could be effective even during long runs and bike rides and this product is perfect. I'm grateful to have discovered it.
This works brilliantly all the time, on hot days, gym days, running days… completely reliable!
The 'To Do' natural deodorant is amazing!! Smells lovely, no nasties and equally important, holds up really well (I'd say better than the standard deodorants and even after a day chasing 2 littles). Will definitely be purchasing more!
The deodorant is really effective, good texture for easy application and great for the environment. I won't be going back to my old roll-on!