Regular price
Sale price
£14.00 GBP
Unit price
per
Sale
Sold out
Does your skin need cheering up?
This beautiful face cream has been formulated with carefully selected ingredients to make it suitable for all skin types. From ageing to sensitive and even problem skin! It sinks in beautifully without leaving a greasy layer.
A powerhouse of antioxidants and skin loving ingredients including -
Organic Camellia Seed Oil - Exceptional moisturing properties. Regenerates skin and forms a barrier to lock in moisture. It does not clog pores and keeps your skin smooth and hydrated. Loaded with natural antioxidants and Vitamin A, D, E & K. Rejuvenates skin and gives it that youthful glow.
Sea Buckthorn Oil - Promotes skin hydration, elasticity and cell regeneration. It's also soothing and promotes skin healing.
Organic Chia Seed Oil - With Omega 3 fatty acids, it conditions and helps restore the skin's natural barrier. It helps reduce the appearance of fine wrinkles and lines. It is also soothing and calming and reduces redness.
Organic Jojoba Oil - Regulates sebum production as it is similar to our natural body oil/sebum. Moisturising, soothing and with antibacterial properties.
Organic Mango Butter ~ which is popular for its skin softening properties and its abundance in Vitamin E and C to protect from environmental stressers.

Organic Shea Butter ~ soothing, moisturising, anti-inflammatory, an antioxidant with high levels of Vitamin A&E.
Organic Palmarosa & Frankincense Essential Oils ~ These two make a perfect pair!
Palmarosa is well known for it's hydrating and antibacterial properties. It balances oil production of your skin and penetrates deep within the skin, replenishing cells and preventing inflammation, breakouts and wrinkles.
Frankincense is popular for improving skin elasticity and tone as well as for its' antibacterial properties.
How to use: This is an anhydrous cream, which means it does not include water and contains no preservatives. Apply a small amount (it's super potent) on damp skin or over water based products e.g. toner. It will apply like a serum on skin contact but don't worry the ingredients have been carefully selected and formulated for skin to absorb quickly.

It is all about locking in that moisture!
Content: 60ml
Share
View full details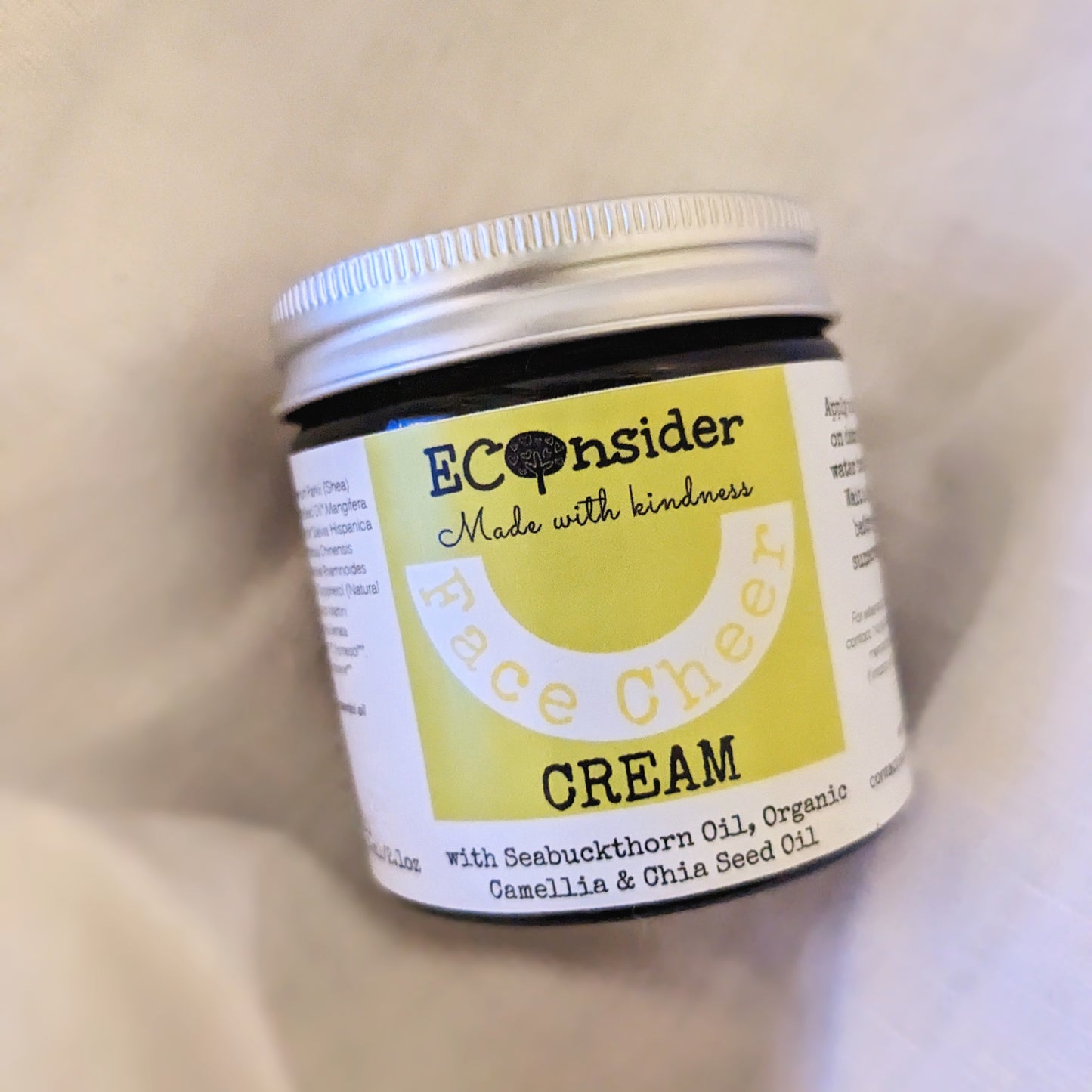 Love this. Completely different to creams I've used before and happy with the results. Has helped with rosacea which was exacerbated by dry skin. Long may it continue!
Smells great, leaves my skin soft, melts in to an oil on the skin. Careful not to apply to much as it can then take time to soak in before makeup can be applied.
Love love love
I have been using the serum for some time whilst I used up my previous cream. Now I'm in love with the cream too!
Thank you so much for your feedback! I'm happy to hear your skin is loving the 'Face Cheer' range
Perfect for tricky skin!
I bought this at a tiny fair many miles from my home and I'm so glad it's online too as it's perfect for my skin. I'm totally combination (dry and oily) as well as sensitive and it's worked wonders on moisturising without making more oil and without my skin reacting. It also lasts for ages as a tiny bit goes a long way.
Healthy stuff
This is such a great face cream. It's wonderful to know that it's just got the good stuff in. I've been using it for about a year and I'm really happy with it - wouldn't change it now!
Thank you so much for your feedback and for coming to see me! I'm so happy to hear that the Face Cheer' cream is working so well for you