Regular price
Sale price
£16.00 GBP
Unit price
per
Sale
Sold out
Does your skin need cheering up?
This luxurious Serum is an absolute treat for your skin! It has been formulated with carefully selected ingredients to make it suitable for all skin types. From problem skin to mature and dry skin! This is a waterless serum without any preservatives. It's well balanced oil combination make it amazingly lightweight.
A powerhouse of skin loving ingredients:
Olive Squalane ~ The star ingredient. It is similar to the skin's natural oil and an excellent emmoliant. It penetrates deep into the skin and improves elasticity, softens skin, protects against moisture loss and has a luxurious skin feel.
Organic Argan Oil ~ Also called the "Golden Oil" and for good reason. Argan is not just an amazing moisturiser but treats several skin conditions, which make it so great for problem and sensitive skin types. It protects the skin against sun damage (but is not a sun screen!), regulates the sebum/oil on your skin and reduces breakouts. It also improves skin elasticity and is particularly beneficial for mature skin.
Organic Evening Primrose Oil ~ Is the go to oil for sensitive skin types with its calming and soothing properties. It is also very revitalising and improves the tone and elasticity of the skin, reducing signs of ageing.
Organic Moringa Oil ~ Brings dull skin back to life and is extremely beneficial for dry and mature skin but has equally great anti-inflammatory properties and soothes acne prone skin. It is also an excellent moisturiser and antioxidant. If you have not heard of it, it is time that you made its aquaintance :0)
Organic Jojoba Oil ~ Regulates sebum production as it is similar to our natural body oil/sebum. Moisturising, soothing and with antibacterial properties.

Essential Oil Blends
Organic Palmarosa & Frankincense Essential Oils ~ These two make a perfect pair!
Palmarosa is well known for it's hydrating and antibacterial properties. It balances oil production of your skin and penetrates deep within the skin, replenishing cells and preventing inflammation, breakouts and wrinkles. Frankincense is popular for improving skin elasticity and tone as well as for its' antibacterial properties.
Lavender & Rosemary Serum ~ A calming and healing essential oil combination. Suitable for all skin types but particularly beneficial for problem skin due to its anti-inflammatory, antifungal, antimictobial and detoxifying benefits.
Patchouli & Frankincense Serum ~ A toning & brightening essential oil combination. Suitable for all skin types but in particularly beneficial for ageing and dry skin types due to its rejuvenating, healing and detoxifying properties.
Pure ~ unscented - slight herbal aroma from the gorgeous Moringa Oil.
How to use:
You can use your serum in the day or as a gorgeous night treatment. Apply a few drops (it's very potent) on damp skin or over any water based products e.g. toner or moisturiser. Add some selfcare to your skincare routine by slowly massaging the serum in with either your fingers or a facial massage tool e.g. Gua Sha.
It also doubles up nicely as a hair serum. Just work a few drops of it into hair ends and comb through.
And when you are done with it, just keep the dropper and transfer over to your next bottle to reduce waste. 👍
Content: 25ml
Share
View full details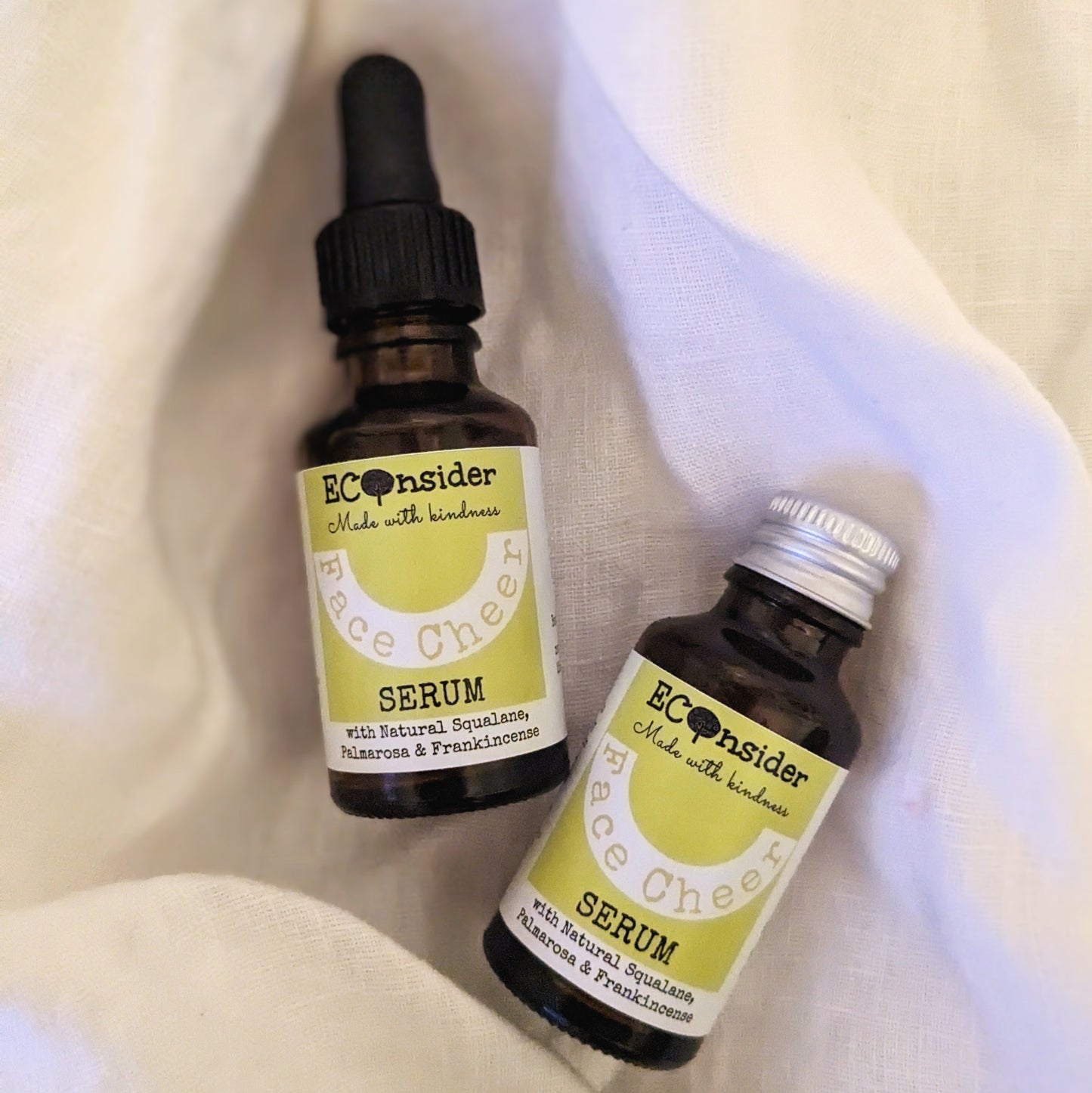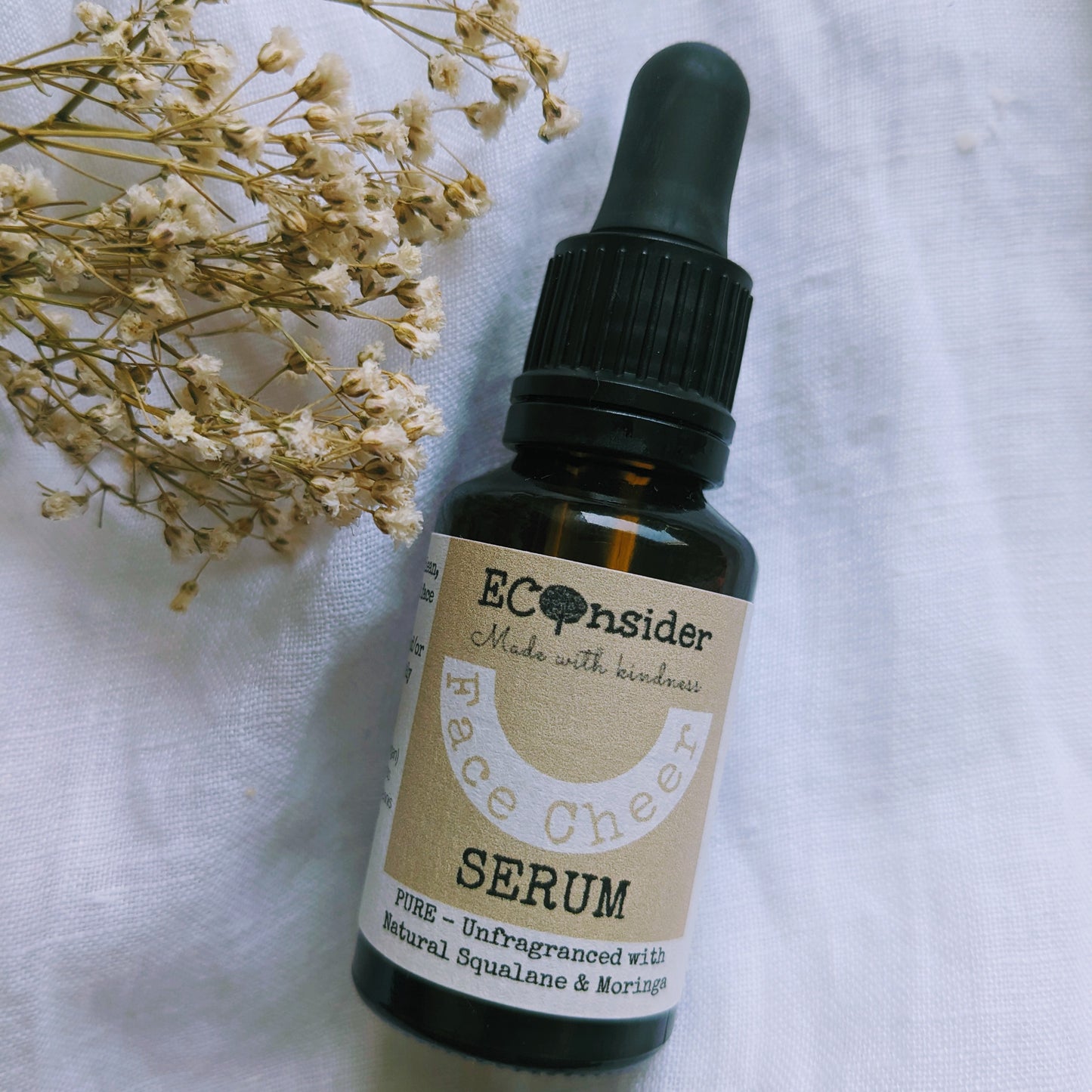 Lovely smell, great consistency, I apply at night and it soaks in to my skin well.
Great for combination skin!
I love using this product once in the morning. I have combination skin and this product is brilliant for hydrating dry parts but prevents excessive oils in oily patches.
Thank you for your feedback! I'm glad your skin is enjoying the Serum!
Lovely Highest Quality Handmade Wow!
Lovely high quality stuff ! My 12 yr Son uses this (Also his Mum now using it too) and they love it ! Refreshing fabulous results all natural too ! Handmade also Fantastic Econsider very very impressed …..
Thank you so much for your feedback! I'm happy to hear you and your family are enjoying your ECOnsider products
Love love love
I love my serum. This is my second bottle and I wouldn't be without it. I have Rosacea and have to be very careful what I put in my skin and this is fabulous
Love this serum
I love this product , it has a nutty scent and a little goes along way when applied to wet skin , definitely perked up my complexion, I preferred to apply this as part of my nightime routine .would definitely repurchase