Regular price
Sale price
£8.50 GBP
Unit price
per
Sale
Sold out
Set the scene with these natural MOOD mists! Yoga, Meditation or a lifting, calming or grounding stimulant. There are 3 different essential oil blends.
♻️ And when you are done with your "Mood Mist", just keep the spray cap and transfer over to your next bottle to reduce waste.
Calm Haze - this calming essential oil blend helps you wind down so great as part of your bed time routine!
Lavender has calming, relaxation properties and aids settled sleep
Rosemary can enhance brain function and relieve stress
Sweet Orange is a soothing, mood balancing essential oil that calms & relaxes.
Happy Haze ~ is an uplifting essential oil blend which gets you off to a great start when you begin your day or picks you up at any time when you need it!
Lemongrass is known to relieve stress & anxiety as well as enhancing mental clarity & self confidence.
Peppermint is a clarifying oil that promotes brain function & stress relief
Frankincense can enhance focus & memory.
Grounded Haze is a great earthy essential oil blend that retains balance when you need it!
Patchouli
 is used as a mood enhancer with stress & anxiety relieving properties
Cedarwood is a warm, comforting oil that clears the mind of feelings of fear & anxiety
Bergamot is known to reduce feelings of fatigue & anxiety and promotes calm & relaxation.
How to use:
Spray the mist into the air and enjoy the moment.
Our Mood Mists are made from natural ingredients. As they contain water we have included a preservative that is COSMOS & ECOCERT approved to avoid microbial growth of bacteria & mould and enhance the life span of your mist.
Caution: Avoid eye contact.Test first before spraying onto fabric (e.g. as a pillow mist). Do not inhale or use on skin. Keep away from children and pets.

Content: 50ml
Share
View full details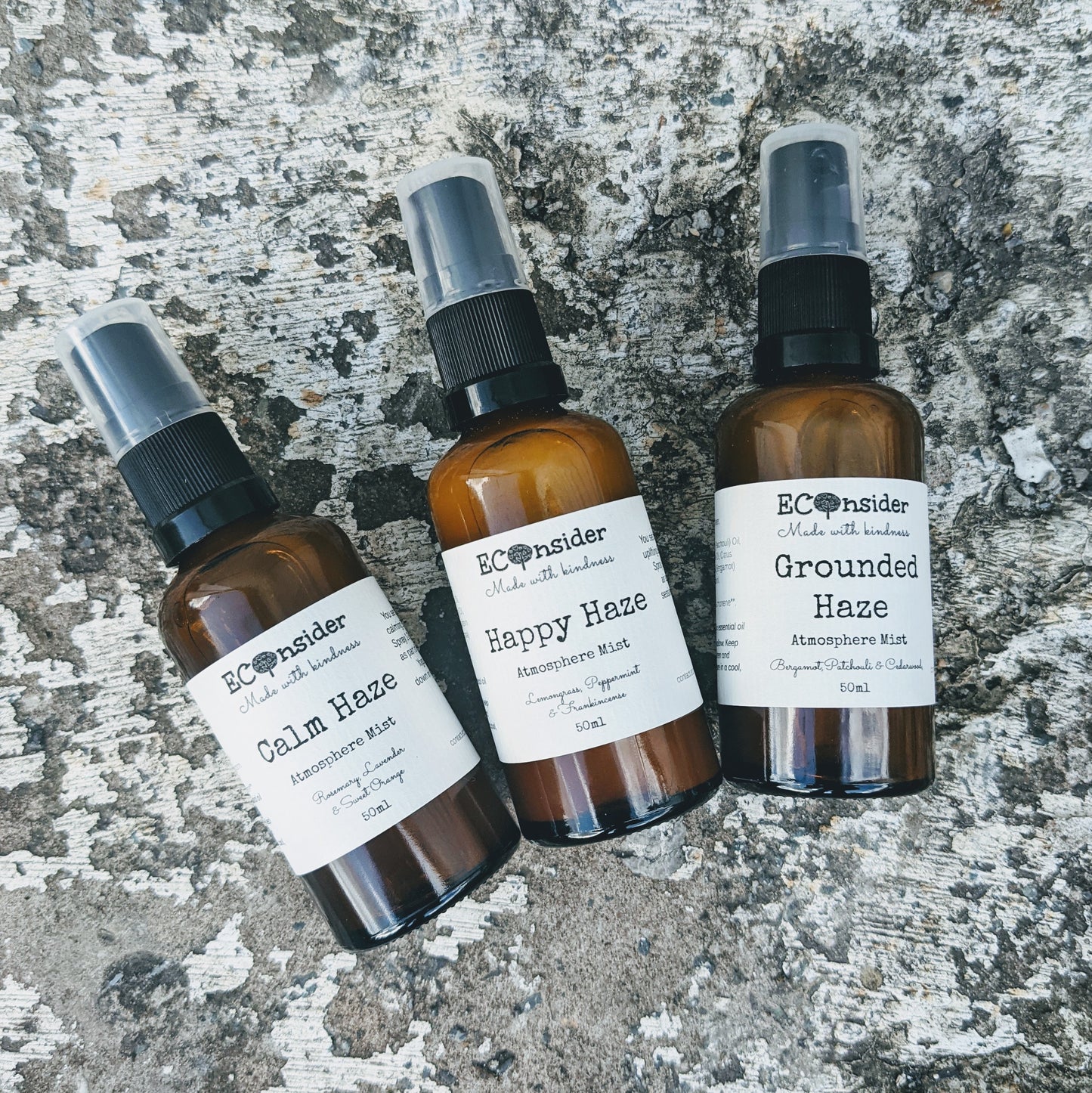 The smell is amazing and makes my room feel refreshed.
Thank you for your feedback! I'm so happy to hear you're enjoying your Mood Mists
I'm going to have to work my way through all of these - the Happy Haze is a real mood lifter, so can't wait to try the rest!!